Thank you for contacting P and R Boucher Builders Ltd., a representative will contact you shortly.
Two Car Garage
In general, most families now have more than one car sitting in their garage. Gone are the days where one parent was the worker who used the car, and the other was the stay-at-home-parent who had no use for the car.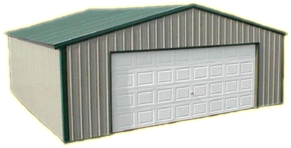 Today, both parents need their own cars and each kid needs his or her own car as well.
Generally speaking however there are more people who work farther away from home and need to get to destinations farther from where they live today. This is another reason why there are more cars on the road.

According to the U.S. Census Bureau, 21 million households have more than two cars (from a 2009 survey). Two million families have five or more cars.

The survey results also showed that 35 percent of families who have their own home have two or more cars.

Creating a more suitable garage space for your needs is easier than you think.

Our two-car garage plans offer plenty of parking space for two vehicles or any combination of cars, trucks, boats, or recreational toys. Youll always find a good use for the space these garages provide. When determining the size of the garage plan to order, be mindful of property set-back restrictions, as well as vehicle heights and lengths. We always recommend building garages as large as your building site and budget allows because no one has ever complained about having too much storage space.
Two Car Garage Gallery