Thank you for contacting P and R Boucher Builders Ltd., a representative will contact you shortly.
Three Car Garage
Nowadays, the three-car garage is becoming increasingly popular among families as it provides more space for vehicles and belongings. Designing your own garage, with some technical assistance from the Internet or a contractor, can actually be a rewarding task.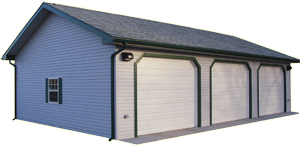 Three car garages will store at least three vehicles, boats, or trailers or a combination of vehicles and shop space or garage storage. Each 3 car garage design has either three single vehicle overhead doors or one double door and one single door. Each has at least one entry door and one window for light and ventilation. They are available in many sizes and styles. Some have a second story for storage, bonus room, or apartment. We have a three car garage plan that will fit your needs or can be easily modified for a perfect garage storage solution.
All plans meet the latest International Building Code (IBC) and International Residential Code (IRC).
Three car garages begin to offer great flexibility and options for storage of vehicles and other belongings. Available in a variety of configurations and styles, many three car garages fit two cars in one area, with a separate area specially designed for a boat or an RV.

Three Car Garage Gallery